We're kicking off our new real-life rebels self-care series with Mihaela! According to her LinkedIn profile she's a digital content creator, social media assistant, lifestyle blogger and all that. But she's actually just a regular girl who spends the majority of her money on food, likes to make people happy and travel to a new destination once in a while. Read ahead to find out her little self-care rituals.
You can read more of her musings on her blog Note by Michelle and follow her on instagram @mihaelanedeva (she has the best captions)
What does self-care mean to you?
Self-care is an essential part of staying sane in this day and age! It's also a good excuse to light up a few candles and put on a sheet mask, while reading something interesting enough to keep me away from my phone for a while.
What role does skincare play in your self-care routine?
At one point I really struggled with the idea of applying skincare in certain order and remembering to always do it but I think it's become an essential part of my day, and the process is now just as important to me as eating and drinking water.
If you have a bad day, how do you perk yourself up?
Whenever I'm having a bad day, I try spend time outside and distract myself from what's making me feel that way. Sometimes being alone helps, while others catching up with a friend is more effective, as it really brings my attention to other subjects. Staying active also helps put me in a good mood, even if it's just going for a walk in the park. Shame the weather doesn't always agree.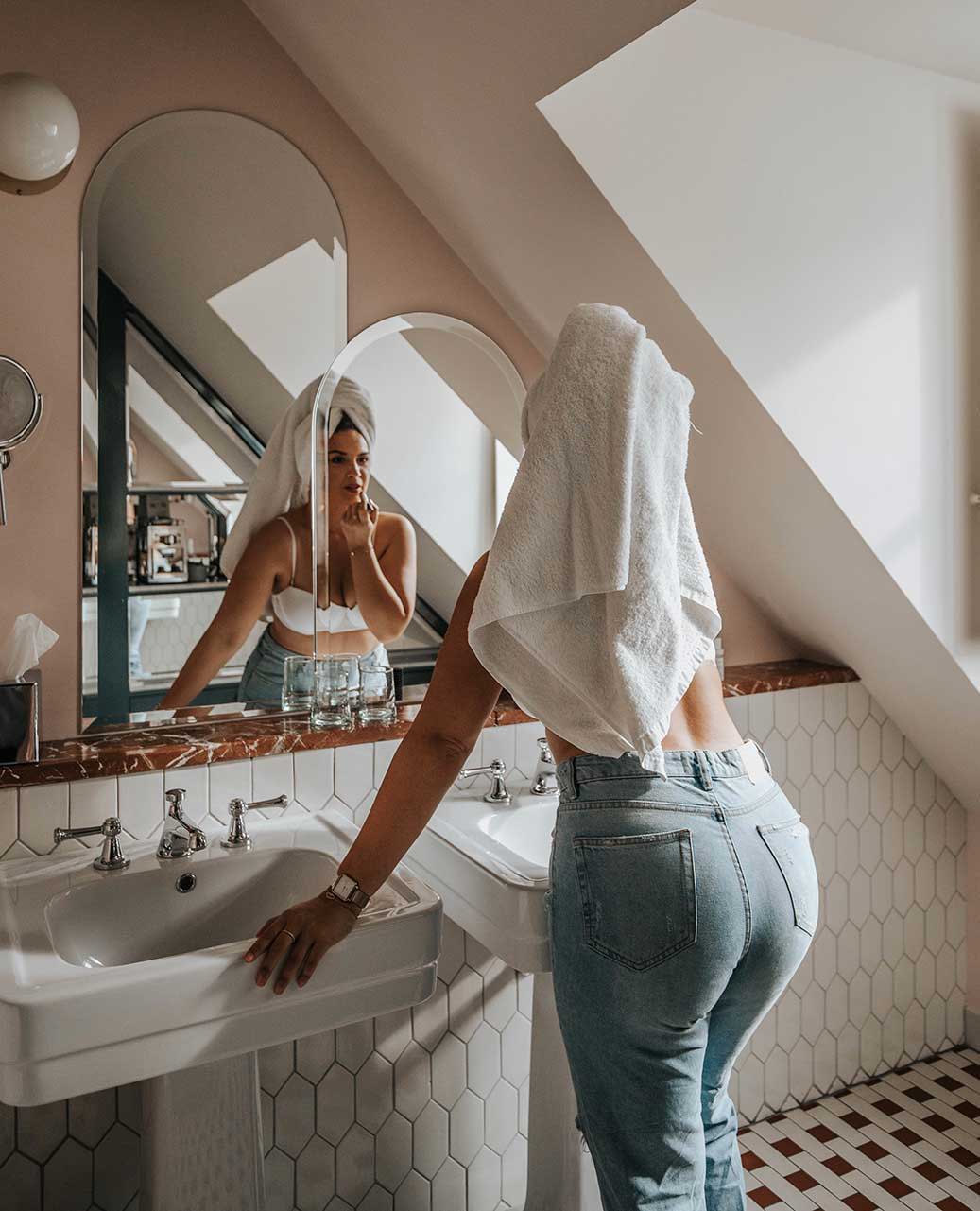 What's your morning routine?
My day starts between 6 and 7am depending on what time I went to bed the night before. I aim to get at least 7 hours of sleep. The first thing I do is 20min of exercise, followed by a meditation and some reading or journaling to prepare my body and mind for the day ahead. Then I take a shower and spend some time engaging with my audience on Instagram and sharing content. Breakfast is usually last on the agenda because I'm not much of a breakfast person and I don't mind leaving it late. I've been enjoying green smoothies lately. They help me stay away from coffee because they satisfy my morning need for a liquid that isn't water.
What's the most important smell of your life and what do you associate it with?
I discovered that I'm really drawn to the smell of neroli on a trip to Morocco a few years ago and spent months looking for a perfume that captures the memory of that trip. It brings me back to a really happy place, waking up to sunshine every single day and smelling neroli as I walk out in the garden. During a conversation with an aromatherapist recently, I was recommended to start using neroli oil when I feel anxious as I already associate it with such a positive feeling.
What does your signature scent smell like?
My signature scent changes every now and then. I used to work as a fragrance consultant, so I have over 30 fragrances at home and try to switch them up, so I don't get bored. The one I wear and love the most at the moment is Halfeti by Pengaligon's. It's a rich, woody scent and it smells like confidence to me. It also contains Bulgarian rose, which is very subtle but I love the fact that I wear a part of my home wherever I go.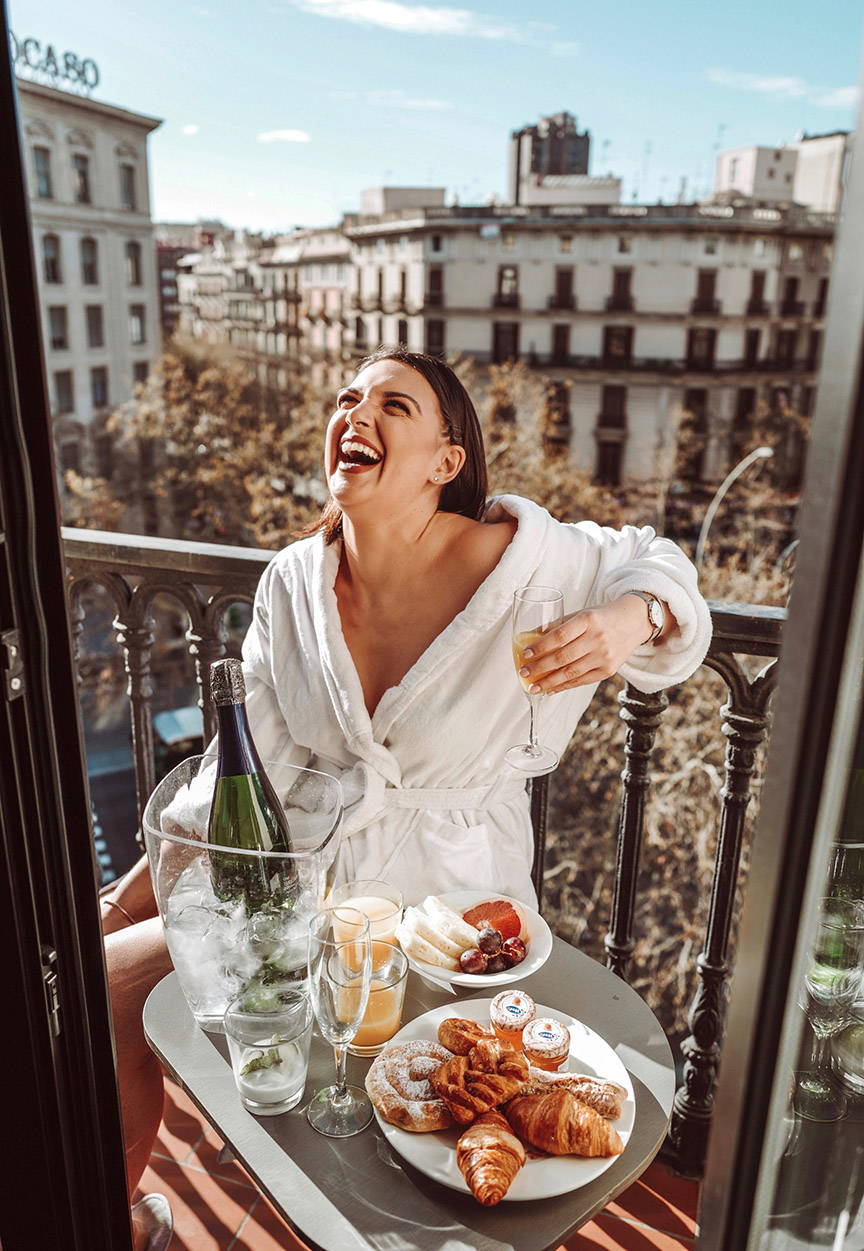 How do you maintain your self-care routine when travelling?
Travelling itself should be considered self-care. When I'm away I try to be present and I'm kind of forced (in a good way) to stay away from my phone because there's so much around me to take in. There's a ton of goodness in that alone. I also try to spend time on my own even when I'm travelling with other people. I love waking up before everyone else and having a few quiet moments to enjoy my morning coffee or tea and spend a few minutes reading or just breathing the air around me.
What are your overall wellness tips?
When it comes to wellness it's usually the small and consistent efforts that bring the best results. Staying hydrated, going outside for fresh air, staying active and eating food that makes you feel good and gives you energy, are all part of the process. Speaking of simple things, something as little as swapping coffee for tea can make such a difference. I always ask myself if I really need coffee and if I'm feeling energetic I opt for tea but if I've had a late night and need a push, then I'll have my coffee. I recently got recommended to implement a night time routine that will send a signal to my brain that it's time for bed, to help me with anxiety and stress. Turning down the lights, lighting up a candle, taking a shower and applying some skincare really help calm me down before bed.